Power Shaping The best tool for quick shaping of the seat bowl and other other parts requiring removal of great amounts of material is a 4 1/2" grinder with a carbide disc. The one I use is the Makita grinder. The Saburr Tooth Carbide Wheel with the rounded edge  removes stock quickly and accurately with some practice. Do not wear any loose clothing while you use a grinder! (I like the orange, donut shaped 4" extra-coarse). Look at your grinder's specs to get the bore or spindle size.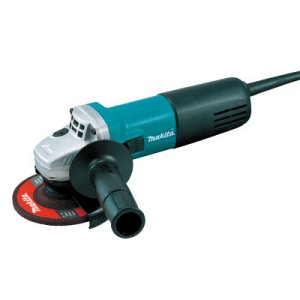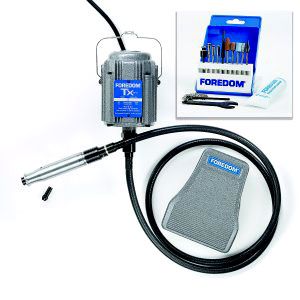 My favorite for faring in the leg to seat, arm to leg joints and everything in between is the Foredom Industrial TXH440. Ben Arthur is the carving guy at Highland. He turned me on to this heavy duty carving machine. The model TXH440 features a 1/3HP permanent magnet, all ball bearing non-reversible motor for all the power you will need to move a lot of stock quickly and with great control.The 39" flexible shaft is longer and heavier which means you can go where you want to go. The cast iron SXR foot-operated speed control is great but I purchased the benchtop reostat so I could operate at a steady speed once I found the ideal setting for a cut. The 44HT handpiece is heavy duty and takes 1/8" & 1/4" collets. Ninety-five percent of the time I'm using burrs with 1/4" shafts. Speed range is 0 - 15,000 RPM. Also includes a 10 bit assortment, spare motor brushes & flex shaft grease and a one-year warranty.                                                                                                                  
The Bench Top is Special for this Motor
Below is my " Handy-Dandy, No Fooling Around, Go-Fast, Roll-Around, Non-Titanium, Not-Good-Looking but Robust, Yardsale Umbrella Stand/ Die Grinder Tower! This will take you anywhere around the shop ready to carve. The special Benchtop Speed dial is clamped in placeand ready to set an optimal speed for the work. Just turn a column plug to fit in the top hole and drill a hole for the Foredom Hanger to fit. Cut a circle of 3/4" plywood to bolt to the stand's casting and attach some quality casters and you've arrived.