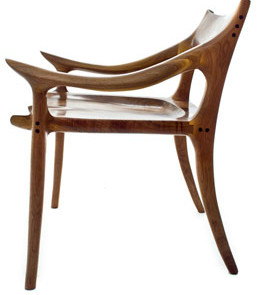 Build a Sculptured Low Back Chair with Charles Brock
Now with both the original DVD and Streaming Video!
You will also receive a set of
High Back Chair Patterns FREE
while supplies last! Instruction  (including videos)for the High Back chair is available in my website's online school. After 30 days FREE the price is $10 monthly. You can stop anytime you like!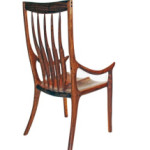 $60.00

with FREE SHIPPING in the USA!  

This fine woodworking Instructional Bundle provides everything you need to know to complete your sculptured low-back dining chair.

Instructional DVD and Streaming Video

This professionally filmed and edited instructional video contains tight action shots, voice overs, split screens, text boxes, beautiful lighting, and a soundtrack that will engage you through the entire woodworking experience. Each chapter provides action shots of everything you need to know to construct this wonderful project.  Login access to the streaming video is provided with your purchase at no extra charge, as long as you want it. The video is located on charlesbrockchairmaker.com in my online school.

Book


 You will receive access to a streaming copy of the companion book. It is a reference for all the information you will need at hand, including pictures and descriptions of the set-ups, lists, measurements and notes for you to take to your shop.

Patterns


 Full-size drawings are professionally printed on heavy paper and are guaranteed to be accurate. You receive two sets. The original and the new Highback/ Low Back pattern sheet.

NOTE: I prefer to make the seat 20x20" instead of the 22" Deep x 20" wide seat given in the original bundle. Use the seat and arm patterns from the High Back pattern sheet to build your low back with the more comfortable 20x20" seat.

Additional Low Back Chair Instruction is available from Charles Brock's Sculptured Chair Making School!