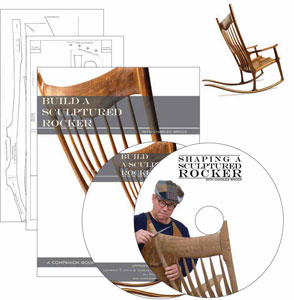 Special Rocker Bundle - "Build A Sculptured Rocker 2 DVD, Book and Original Full-Size Pattern set
PLUS the NEW! 8/4 Companion Rocker Pattern Set
$89.99
Charles Brock's lively 103 minute DVD
plus
48-page book with 72 color photos
plus
two 24" x 48" full-size original pattern set provide you with all the knowledge and confidence you will need to build your own sculptured rocker. Charles will teach you how to:
Choose and order wood for you project
Scoop out the deep saddle
Craft the unique visible seat-to-leg joinery
Shape, sculpt and assemble the flowing headrest, arms and spindles
Laminate and carve the signature laminated rockers
Assemble the rocker with the proper glue, screws and plugs
Carve, sand and finish the chair to taste, creating a sculptured rocker with a final touch of your own artistry Additional Rocker Instruction is available from Charles Brock's Sculptured Chair Making School
Click Here to Find Out More
PLUS
Shaping a Sculptured Rocker with Charles Brock DVD
This companion video teaches the art of carving a beautiful organic rocking chair. Using lively, tight video shots with rich explanations, the DVD will fully explain:

• Identification of the tools that Charles uses for sculpting
• Analysis of all of the rocker's lines and surfaces in three views
• How to sculpt the individual parts of the rocker
• How to fair the parts together for that flowing, seamless look This 1-Hour 50-Minute DVD will teach you how to sculpt furniture and help you make your rocker a true work of art to be enjoyed for years to come.