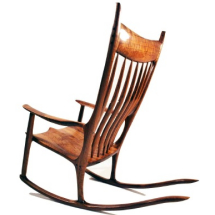 NEW! Rocking Chair Companion Pattern Set
This is the rocker we have building in my classes and that I have been building for my clients for the past few years. It differs from the original in that it allows you to build the rocker with 8/4 stock instead of having to find stock that matches in the hard to find 10/4 thickness. The pattern set includes: A new back leg pattern with a little curve toward the sitter's head. This looks great and provides more head support for the sitter. A spindle pattern with a lot more curve at the 3/8" end to give more room for the shoulders since the headrest curve is not as deep. A new 8/4 arm pattern set (top and side profiles) to get the most sweep out of less thickness. It is designed for the new 21" length (depth) of the "Big Smile Seat" The Big Smile Seat pattern. This is the first pattern set to include template(s) to trace my popular headrest profiles. The big sweep profile of the original rocker and the more conservative headrest profile shown here. Also included are seat thigh relief cut-out templates and the s-curve template that makes a great line from the back of the front leg to the back leg notch on the side of the "Big Smile Seat."
IMPORTANT! The 8/4 patterns are alternative patterns not a complete set and require the use of patterns from the original pattern set to build the rocker!
See Special Package Deal with the Super Rocker 2DVD Instructional Bundle
$30 USD Includes Shipping to US Only $35 USD Includes International Shipping