_________________________________________________________________________________________
Special Island Stool Pre-Order Extended to Oct. 20th!
Pre- Order the New Island Stool Bundle by October 20th and Receive a FREE BowTie Stool Pattern Bundle with Streaming Video Instruction!
Will ship October 20th (Pre-Order Price $40, Regular Price $50)
"Build A Sculptured Island Stool with Charles Brock"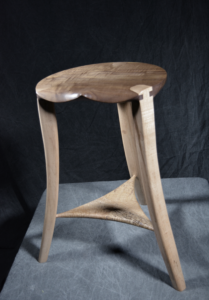 This is the perfect project for a woodworker new to sculptured furniture or a seasoned pro.
The Island Stool Bundle includes:
One hour fifteen minutes of instructional DVD in HD, teaching the crafting of each of the stool parts
Set of full size paper patterns for each part with dimensions
Login info, so you can stream the instructional video anywhere you have an internet connection.
Plus, Charles will answer your questions (rocknchairman@gmail.com)
You will learn how to join the stool's contemporary legs to it's seat with an exquisite rabbeted notch joint, how to build the beautiful and innovative triangle stretcher footrest, and sculpt a gorgeous saddle seat. Most importantly, The Island Stool is the perfect height (25") for sitting around your kitchen island. Whether you need one or a set of five, they will give your kitchen the beautiful look of today and you will become the sculptured furniture maker you have dreamed of being!
_______________________________________________________________________________________
Register Here for the Monthly eLetter!

________________________________
 

NEW! 

You can get Daily Updates and Tips by Following me on Facebook, Twitter and Instagram.
On

Facebook

search for  Sculpture that Rocks, on

Twitter

search for Charles Brock @rocknchairman and rocknchairman on

Instagram.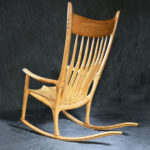 ____________________________________________
Sculptured Rocker Classes for 2018
                                          Jan 22-27,  March 19-24, July 9-14, Sept 10-15,  Nov 5-10
Watch a Video Made During a Recent Class!
Remaining 2017 Classes:
November 6-11 is SOLD OUT
Go to the Classes menu to find out more!
__________________________________________________
 Join the online school by taking advantage of a Special Offer for a FREE MONTH! Have unlimited access to all chair and furniture making instructional videos. Improve your rocker and low back chair projects, make a high back dining chair or a Bowtie Stool.
Improve Your Band Sawing Technique
Band Sawing is a primary skill needed to build my Sculptured furniture projects. This free video will provide you with  some important strategies that will improve your results at the band saw. Watch it now!
 Tune Up Your Scraper
The scraper is a must for my projects. Executing the final detailing of the rockers it's hard and soft lines depends on knowing how to sharpen and utilize scraper. Learn how I sharpen mine in this FREE video.
Buy the Rocker DVD Bundle or the Low Back Chair Bundle and SAVE NOW!
Buy a Rocking Chair 2 DVD Instructional Bundle for $89.99 and I will include the 8/4 rocker plans for FREE. A $30 savings if bought separately!
Buy a Low Back Chair Instructional Bundle for $49.99 and I will send you the High Back Chair Patterns for FREE! A $30 savings if bought separately!

The Low Back Bundle has changed! Instead of receiving at the Low Back DVD you will receive a code that will provide you with a streaming edition of the video and a downloadable pdf. copy of the book.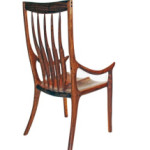 Three Hours of Video Instruction
that will help you build your Sculptured High Back Dining Chair! Join Today the Online School Today!
706 366-3152 or
rocknchairman@gmail.com
Giving Back to New Woodworkers - Watch a group of new woodworkers experience turning pens!