Sculptured Rocker Classes Planned for 2017
As soon as I know whether or not I will be able to teach multiple student classes in 2018 I will post a schedule.
Chuck
Remaining 2017 Classes:
June 5-10 Sculptured Rocker Class - SOLD OUT
August 7-12 Sculptured Rocker Class - 

SOLD OUT
November 6-11 Sculptured Rocker Class - SOLD OUT
Go to the Classes menu to find out more!
The "BIG SMILE SEAT" makes a huge difference in the comfort of your rocker or chair seats without having to make a big mess in your workshop from all the grinding. Every sculptured seat should be a "BIG SMILE SEAT"! Learn to build it in the Online School.
Join the online school
 by taking advantage of a Special Offer for a 
FREE MONTH!
 Have unlimited access to all chair and furniture making instructional videos. Improve your rocker and low back chair projects, make a high back dining chair or a Bowtie Stool. The Tortoise Shell Rocking Chair with Caption Side Table was recently used in filming an AT&T national commercial. Look for it when you visit your AT&T store on their in-store big screen! Click on the Tortoise Shell Walnut Rocker (shown with the new "Caption" side table)  Picture and it will expand to full screen so you can see all the detail!
What's New?
Buy a Rocking Chair 2 DVD Instructional Bundle for $89.99 and I will include the 8/4 rocker plans for FREE. A $30 savings if bought separately!
Buy a Low Back Chair Instructional Bundle for $49.99 and I will send you the High Back Chair Patterns for FREE! A $30 savings if bought separately!

The Low Back Bundle has changed! Instead of receiving at the Low Back DVD you will receive a code that will provide you with a streaming edition of the video and a downloadable pdf. copy of the book.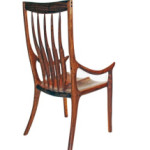 Try the ONLINE SCHOOL for FREE for One Month! SPECIAL OFFER!
Three Hours of Video Instruction
that will help you build your Sculptured High Back Dining Chair! Join Today the Online School Today!
706 366-3152 or
rocknchairman@gmail.com