The Highland Woodworker is a FREE Web TV show I host and produce along with video guru Stephen Price to inform and entertain fine woodworkers and lovers of the art. It is shown on

thehighlandwoodworker.com

.
Release Dates for the 2014 Season III Episodes:   February, April, June, August, October, November & The Holiday Tool Show in Late November or Early December. This season's Moment with a Master" episodes will feature: Chris Schwarz, Mary May, Glen Huey, George Walker, Scott Phillips and Don Williams. Click the screen below to see the new show and all the earlier episodes with Roy Underhill, Brian Boggs, The Moulthrops, President Carter, Craig Nutt, Alf Sharp, Brad Sells, Jeff Miller, Jim Tolpin, Chris Schwarz, Matthew Teague, Glenn Huey, Chuck Bender and so many more of your favorite woodworkers.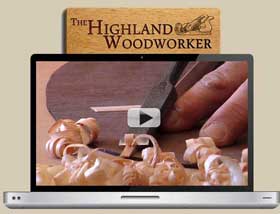 In our latest Web TV episode:
How two Tennessee brothers mindfully recycle OLD BARNS
An inspiring visit to the shop of MASTER WOODCARVER Mary May
The secrets to how Kip Krusa builds his EXQUISITE GUITARS
Learning all you need to know about SHELLAC from Glen Huey
The benefits of adding a KREG K5pockethole jig to your tool box