ROCK'N CHAIRMEN
:
What is a Rock'NChairman? and how does one become one?
As a Grand Poobah of the International Society of Rocker Fellows, I gleefully enjoy commending my diligent woodworking friends who have endured to finish their chair and enjoy the fruits of "sculpture that rocks," to the ethereal and bloviated title of Rock'NChairMan! I love the pictures and my work. Connecting with the fine people who have chosen this project as worthy of their time, energy and money is very humbling and I am very blessed. I don't have pictures of every one of them.
- Charles Brock
All chairmakers who email a picture of their finished Maloof inspired rocker to rocknchairman@gmail.com will receive by email a personalized and dated certificate of acceptance into the International Society of Rocker Fellows and will hereby be known forever as a Rock'NChairman. 
Here is a tribute to some of my favorite Rock'NChairmen!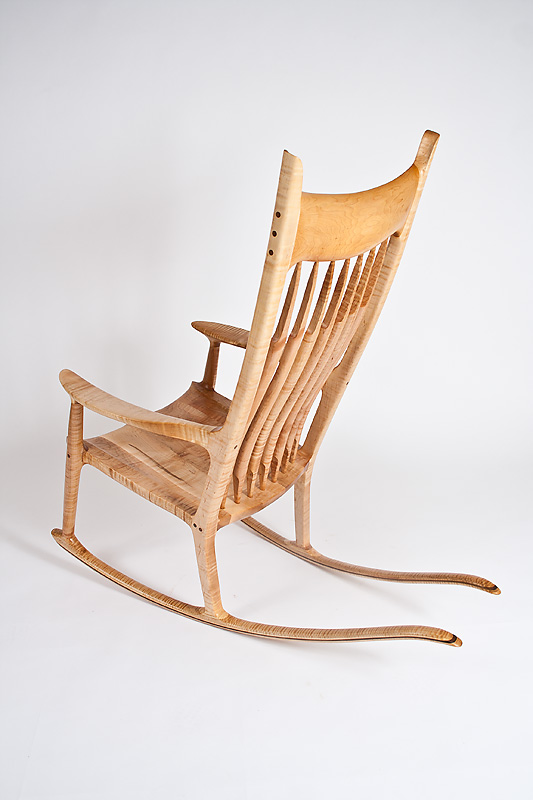 Robert Petrillo is a Rock'NChairman from ArizonaRobert Petrillo
is a Rock'NChairman from Arizona. His curly maple rocking chair is really quite gorgeous! He used the curly maple for the legs to tremendous advantage. Robert is developing a website for his work. I will provide a link. Robert also finished a Low Back chair. When I get a few of the new Low Back pictures I will develop a page for "Chairmen of the Boards".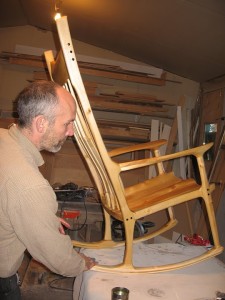 Emile Stehelin of Whitehorse in Canada's Yukon Province is a Rock'NChairman. His wife cried tears of joy when she was given the rocker. She thought he was making a cradle for their new baby. Now they can all rock while rocking the baby. Emile Stehelin of the Yukon is a Rock'NChairmanEmile did a great job and will have many a rock in his family's beautiful new rocker.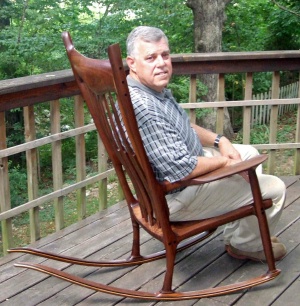 Joe Thompson
is a Rock'NChairman from Bentonville, Arkansas. I met Joe at  a weekend demo class about a year ago in Atlanta, Georgia. He credits the class and the instructional bundle with helping him build his beautiful rocker. Joe builds some great cedar strip canoes. His canoes are on my bucket list of projects I would like to build. He is Joe Thompson is a Rock'NChairmanstarting on another rocker next and some Maloof Inspired Chairs. Way to go Joseph!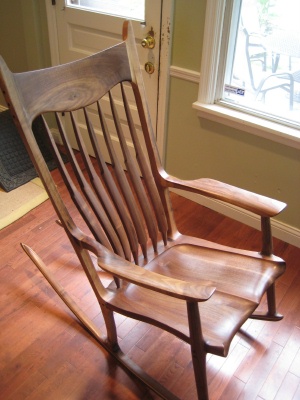 Steve Kratzer
is Appleton, WI's most beloved Rock'NChairman! Steve has built almost everything and hadWI's Own Steve Kratzer is a Rock'NChairman already built a Hal Taylor rocker before building the Maloof inspired rocking chair and he has built several. He has sold lots of his work to fortunate customers. Steve enjoys watching admirers explore his furniture kinesthetically (and by touching, too).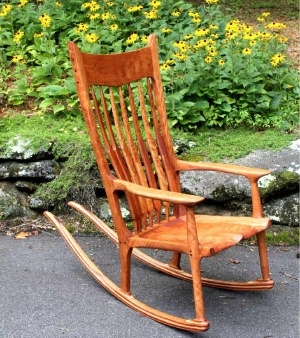 Keith Harrell
is a marvelous Rock'NChairman who is the pride of Hayesville, NC. He built his first rocker for rocking the first Keith Harrell is a Rock'NChairman from Hayesville, NC!grandchild. That's just about the best use for any rocker. The baby is due in August which should make Keith a grandpa at any time. His chair really captures the flow of the Maloof inspired rocker. He is already working on his second rocker so the baby can be rocked when they visit.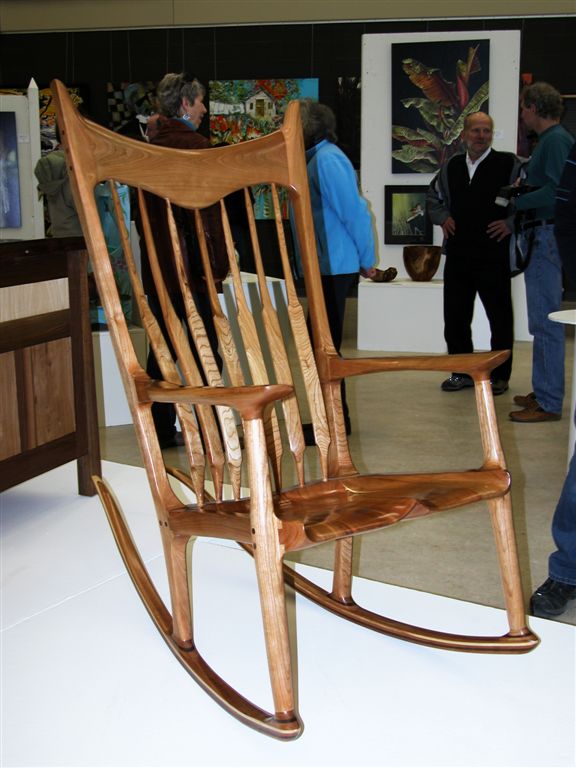 Vern Fish's Rocker Wins Major Ontario Crafts Awards! - 
Visit Vern
Vern Fish is a Rock'NChairman from CanadaI have been, for several years, a member of the Muskoka Arts and Crafts, a group of over 300 artists and craftspersons working in all media within the Muskoka Lakes Vacation Land of Ontario.  I finished my Rocker early in March, which I had started just before Christmas with significant dedication on weekends to complete the task.
For the last 33 years MAC has had an Annual Spring Members' Show and it was my intent to submit the Cherry Rocker as one of my entries, knowing full well that it would  be noticed and It was, well beyond my expectations.
At the awards presentation on opening night it earned The Silver Bridge Gallery Award for Best Use of Media, chosen by the invited judges for the event.
The Members of MAC vote for their choice of Best Work in the Show and I was ecstatic when they chose the Rocking Chair for "The Doug Gatcke Award for Members' Choice for the Best Work in the Show".
Chuck, I was thrilled when I completed the Rocker with the help of your package, but needless to say overwhelmed with the recognition of my peers and the public.
Again Thank You, and I look forward to my next Rocker in Walnut, which I have just ordered the material for.
Kudos to You
Vern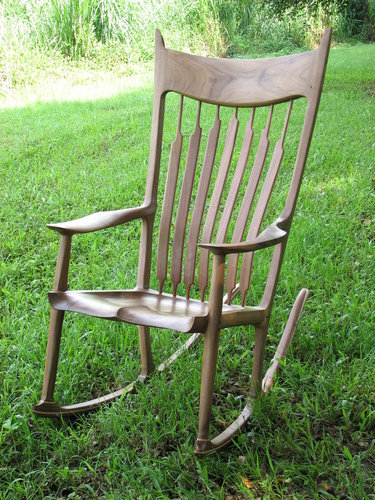 RUDY KO
 of Taiwan has sculpted a wonderful rocker with excellent lines that really pull the eye around theRudy Ko of Taiwan is a Rock'NChairman chair. He has blogged the sculpting of the chair in Chinese.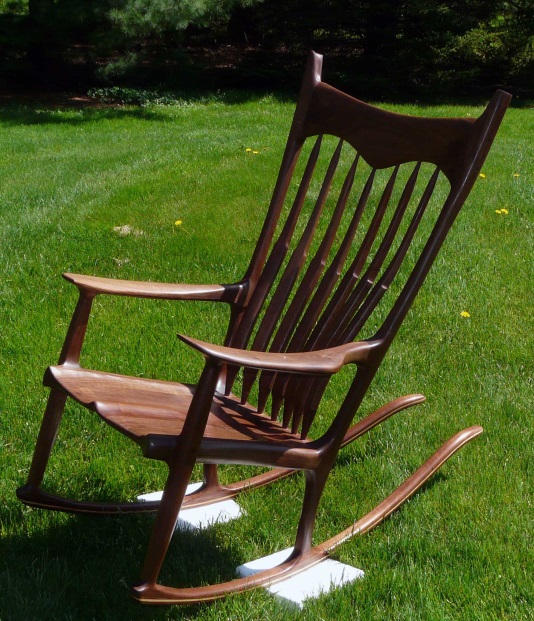 Paul Morss
 of is a fine woodworker from Horsehead, New York who built a Paul Horss from New York is a Rock'NChairmanwonderful rocker beautifully expressed with some of Paul's own lines and the alternative arm profiles offered to Member's of Chuck's Rocker Studio. Paul said:
"I did use the new arm pattern. I had roughed out the old one and then when the new came along, I switched to it. I am glad I did. 
I live in Horseheads NY. That's upstate close to the PA border, a bit south of the Finger Lakes. I would say it is a great project well worth the time invested. The great support from you went a long way to making it a success. I look forward to building the  the low back chair.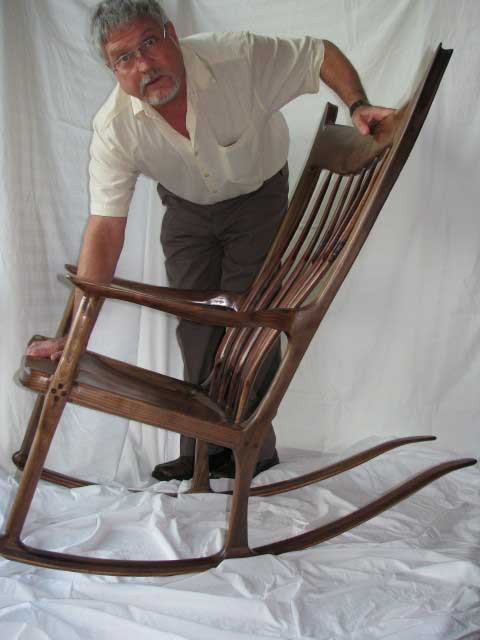 Steve Kloppers
 is another fine Canadian woodworker who has built his dream rocker and some new design Canadian Steve Kloppers is a Rock'N Chairman features in the process.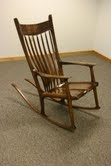 Here's what Steve had to say about building the Maloof Inspired Rocker: "I must again congratulate you for having gone to all the trouble and detail to measure and measure and measure again and work out all the intricasies of the Maloof chair. That in order to realize so many of us woodworker's dreams to build a chair like this. Every step of the way while making it, I thought of that and wanted to put it in writing. THANK YOU !!!"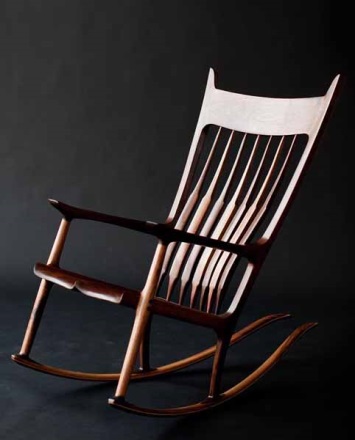 Shawn Patel
is an enormously talented craftsman who built this Shawn Patel is a Rock'NChairmanbeautiful rocker and while he worked also created a
 "Group Build" on the Saw Mill Creek Woodworking Forum
. This is another way you can find support for your project. Shawn is one of the many new breed of woodworkers who builds relationships using the internet to increase his skills and to find woodworkers with common interests. Shawn is very good at he anything he pursues.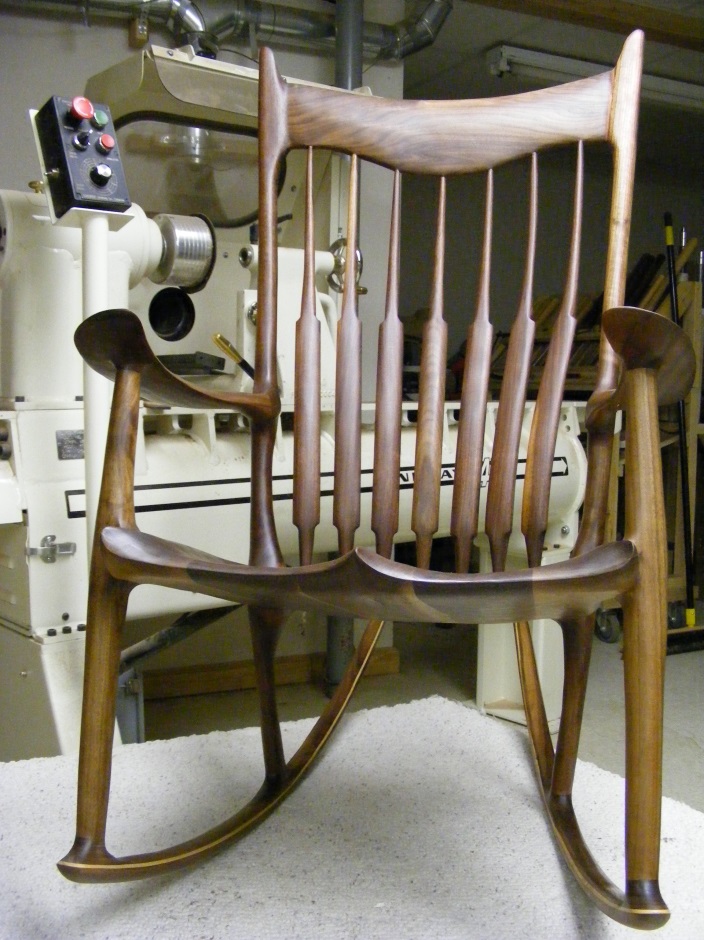 Magnus Nylander
 of Sweden is a ROCK'N CHAIRMAN! Magnus is a real artistSweden's Magnus Nylander is a Rock'NChairman andshows his talents off with his wonderful rocker.
The picture captures the excitement of the flowing lines and excellent craftsmanship. The use of light and shadows is a work of art in itself.
Congratulations!
Charles,
I've attached some pictures of my first rocker for you to use as you like. Thank you for a great product. I would not have attempted this project without it. Seems to me that I read on your website that you were assembling a second chair product. Please let me know when it is available. I will be among your first customers. 
Keep making sawdust!
Mike Chapman
www.mikechapmanwoodworker.squarespace.com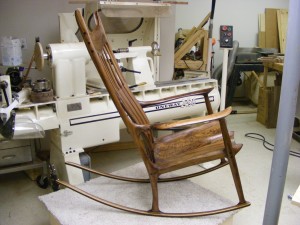 Eric Scott's
 beautiful rocker is the first one finished using the new Alternative Arm #1 posted on this New York's Eric Scott is a Rock'NChairmanwebsites Chuck's Rocker Studio. It has a deeper sweep and lift on the arm's front.
Eric is a seventy-one year old dentist who can work the pants off of woodworkers or anyone half his age. He certainly has an eye for carving as you can see.
He attended the January 2010 Seven Day "Build Your Maloof Inspired Rocker" class in Atlanta, GA. Along with 4 other students they completed all the parts for their rockers and returned to their home shop to finish shaping, scraping and sanding them before applying the appropriate oil and wax finish for which the rockers are famous.Eric Scot Rock'NChairman Chair #2
Eric has already started on two more rockers. You must agree he is a Rock'NChairMan!
Fred Deadrick
 of Livermore, CA
Fred built this beauty out of some clear maple for his first grand childFred Deadrick of Livermore, CA is a Rock'NChairman due almost anytime now. His family looked at several different chair designs and they picked the "Maloof Inspired Rocker." As you can see Fred is very proud of his work as he should be. He is a Rock'NChair Grandpa. It will be around I hope for several generations of grand children.
Charles - I wanted to say "thanks" for the chair plans. It was a great project, that I learned alot from and had a alot of fun working on. My first experience really taking "artistic license" into effect on a project. I look forward to the next chair switching from cherry to walnut. Thanks again - Jim Hemingway
Chuck,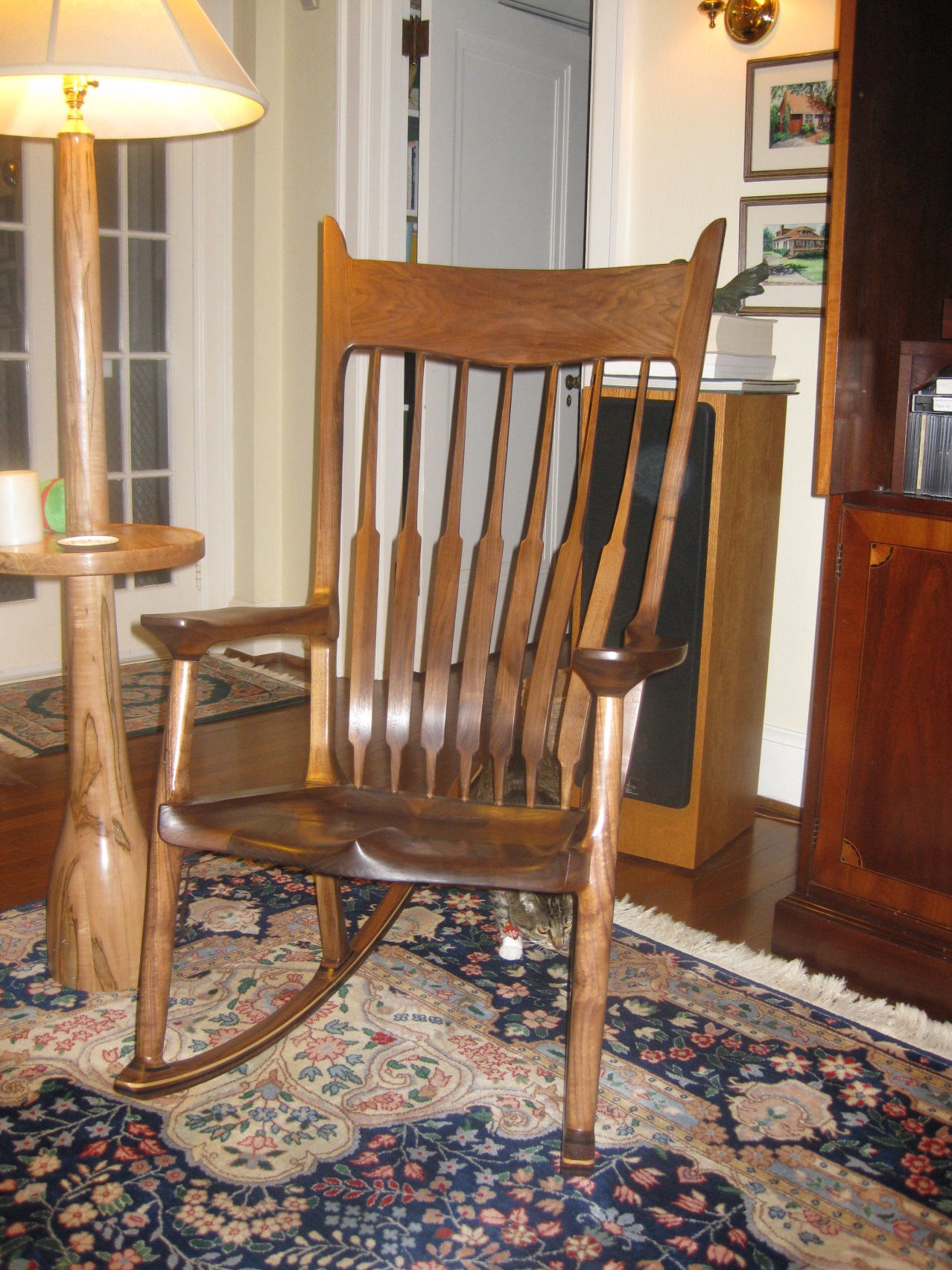 Michael Justice of Ashville,NC is a Rock'NChairman"I can never adequately thank you enough for this experience!  At every turn you have been there to encourage, push, and facilitate this dream.  I admitted before, that I had no business undertaking a project of this magnitude, with the limited skills and understanding I had at the beginning. It was an obsession and all consuming desire I had to invest whatever was necessary to complete the chair.  It began when I first saw the Maloof rocker and then purchased the package.  But more importantly when I met you in Atlanta and you spent a couple of hours with me, I began to think the impossible might indeed be possible.  I read everything I could find on Sam Maloof, watched your video, read the manual and tried to keep focused on one step at a time.  At times, my wife had to think I was crazy!  I watched the video every morning with coffee and every evening after work…I re-watched each section before I went to the basement to work on that chapter.  Though I invested a lot of time, thought, and energy, it would have been impossible if you had not spent all your time organizing, writing, photographing, and videoing all the information!  Often I would think of a concern or detail and couldn't remember where I read or heard it.  That just proved you had thought to include that minute detail somewhere.  It was all there!  When I had questions, you responded almost immediately.  I'm sure I wasn't the only one asking all those questions, so I don't know how you did it and had a life of your own at all.
I still need to do the beeswax/oil finish but brought the chair up to enjoy rocking.  It is beautiful!  It represents an outstanding success on your part as a teacher!  The biggest surprise of all is how comfortable and perfect the contour of the spindles matches my back.  It is a custom fit.  Thanks for giving me the spindle pattern when I was concerned I might have distorted my pattern!
I love this chair even more than my obsession/desire to build it. I hope you have a wonderful class next week!  I'll be thinking of you guys and rocking as I turn 60."
THANKS AGAIN EVER SO MUCH!
Michael J.
Hello Chuck,Mark Day is a Rock'NChairman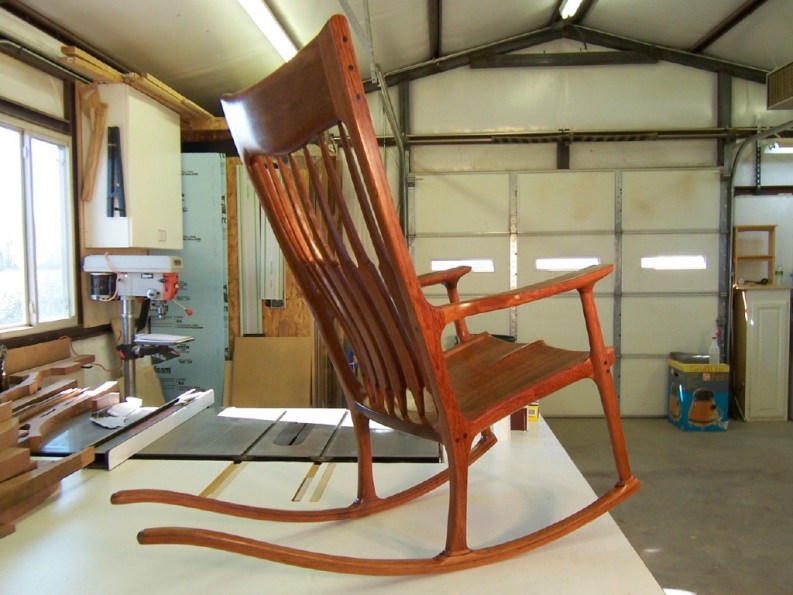 Thanks for offering the instruction and template bundle. This is my first feeble atempt at your design. I'm sure you'll see I did'nt pay as much attention to detail in some areas as you do, but I will on the next one. I bought most all the needed hand tools from Highland. I mainly do cabinetry for a living, but I intend to offer these rockers in the Dallas area and beyond. Do you have any marketing info that you'd be willing to share concerning these rockers?
The wood I used is very pretty, but surely a mistake for this application. I have'nt been able to identifiy it so I sent a sample to the forest products laboratory in Wis. I think its jatoba or austrailian red palm. I refer to it as the wood from hades. The most dificult wood I've ever worked with.
Thanks again, Mark
Texan Lee Fox was the first Rock'NChairman. Being first is a priority I understand if you are from Texas. Lee attended one of my first demonstration classes at Highland Woodworking in 2008. I can't tell you the joy I felt seeing my first off-spring and Lee's great work.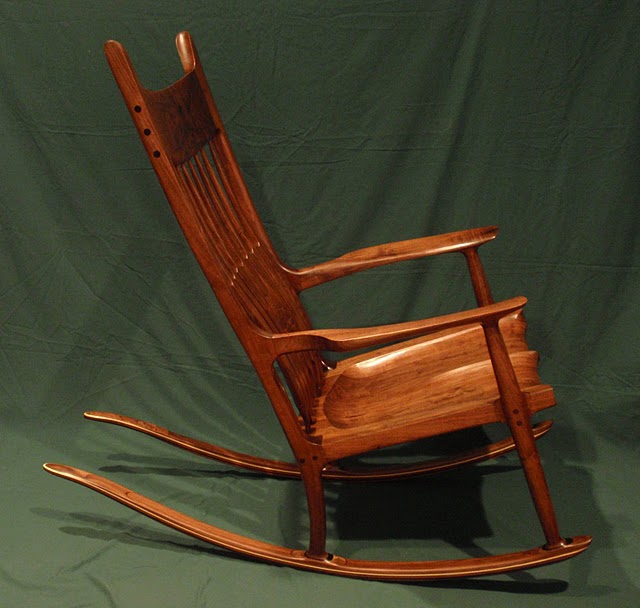 Thank You, Lee and all of the Great Rock'NChairmen who have followed!