NEW! Sculptured Low Back Chair Class with Charles Brock
June 4-8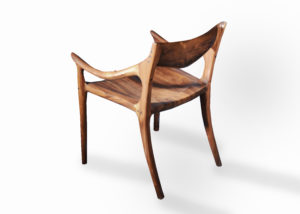 Build your low back dining chair with Charles Brock in this 5-day class. From hand selected walnut you will: Craft a coopered seat, create beautiful legs and join them to the seat, Learn to sculpt the exquisite confluence of the back legs, arms and backrest. $1750 Includes All Materials/ Deposit $875 You can register and make the Full Payment of $1750, Register and pay the Deposit of $875, or make a Final Payment of $875 before the class starts. You can do all this on PayPal.
Click Here to Register
OR Send a check to my office at: Charles Brock LLC/ 224 Beamon Drive/ Franklin, TN 37064 Please call or email to check on class vacancies before sending a check for Registration! 706 366-3152,
rocknchairman@gmail.com
I am very excited to bring back this class. The daintiness of this beautiful contemporary chair makes it one of my favorites. It is a perfect chair to go around the sculptured pedestal table pictured on the web site and available this summer in a DVD bundle. Click here to register and make a payment!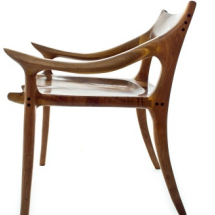 Here are the tools I suggest that you bring to the class (see picture). I have some extras in case you need them. Sometimes the Auriou rasps are in short supply. Start with Highland Woodworking, then try Lie-Nielsen and then pray! Buy them early!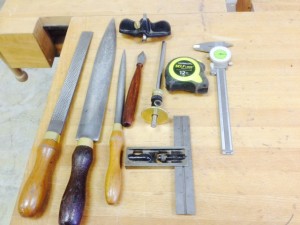 Tools to Bring - Auriou Rasps 12" Cabinetmaker's #10, Combi #5&9, Modeler's 7" #13, Marking Knife, Marking Gauge, Square, Fractional Caliper, Lie- Neilsen Router Plane Every class member is required to view the low back DVD before coming to class. This provides an outstanding overview of what we will do in class. You may purchase this from this website.
Classes are taught at:
119 Southeast Parkway Court
Franklin, TN 37064
Suite 270
STUDENT WITHDRAWAL POLICY:
Due to the scheduling demands of this week-long class, purchase and prep of walnut materials and the scheduling of an assistant (if more than 3 students register), registered students wishing to withdraw must contact Charles Brock at least 
45 days
 prior to the start date of the class in order to receive a complete refund. Failure to do so will result in a 
50%
 forfeiture of the entire tuition. Withdrawing with fewer than 10 days left prior to the start date will result in a 
75%
 forfeiture. There are no exceptions to this policy. Please be sure to check and clear your personal calendar prior to registering. Accommodations:
Click Here for a Map of Accommodations