The New Island Stool DVD Bundle with theBONUS BowTie Stool Pattern Bundle !
A $29.99 Saving for the BowTie Stool Patterns alone!
$50 (FREE USPS Priority Mail Shipping)
    "Build A Sculptured Island Stool with Charles Brock"
This is the perfect sculptured furniture for a woodworker new to sculptured furniture or a seasoned pro. Many of the stool's The Island Stool Bundle includes a 1 hour and 15 minute instructional DVD by Charles Brock who teaches the crafting of each of the stool part, a set of full size paper patterns, plus login info so you can stream the instructional video anywhere you have a wi-fi connection. You will learn how to join the the contemporary legs to the seat with an exquisite rabbeted notch joint, how to build the beautiful and innovative triangle stretcher footrest, and sculpt a gorgeous saddle seat. Most importantly, The Island Stool is the perfect height for seating around your kitchen island. Whether you need one or a set of five, they will give your kitchen the beautiful look of today!
The BowTie Stool with Full Size Patterns
and eBook with Video Streaming Video Links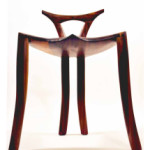 The full-size patterns are necessary along with the Online lessons as companions for building this beautiful stool. I designed it to be a music stool for playing my guitar. A customer told me it would be great for putting on his socks and shoes while another uses one on each side of the fireplace. It provides some unexpected lumbar support for setting and will be a piece of furniture to talk about. The project will plunge you into the world of crafting sculptured furniture.